Prolong Legacy Applications, which is an important work with progress of architectures even though quiet and stressful.
Compatibility of iOS version deferences are very good for work. Before iOS 6 built application can run on iOS 8 probably on emulated environment. It looks safety than iOS 7's built ones.
We introduced Change of Directory Hierarchy between iOS 7 and iOS 8. And more, CoreData database is difference against each versions.
Therefore, Updating Archives is only a way to prolong legacy applications for iOS 6 before.
Solution for iOS 8 compatibility
iOS 7
Before iOS 6
Case
Updating codes, Rebuild
Updating archive
Results
Perfect iOS 8 application
Both working iOS 7 and 8
Prolong iOS 6's assets
Constrains
Technical resources for iOS 8 and iOS 7
No control source code, Impossible any add, update functionalities
Unavailable using New architecture
Often User interface and behavior issues
Often Application Crash
Preparation
Source projects, Engineering resources
Updated Provisioning profiles
Updating operation on Xcode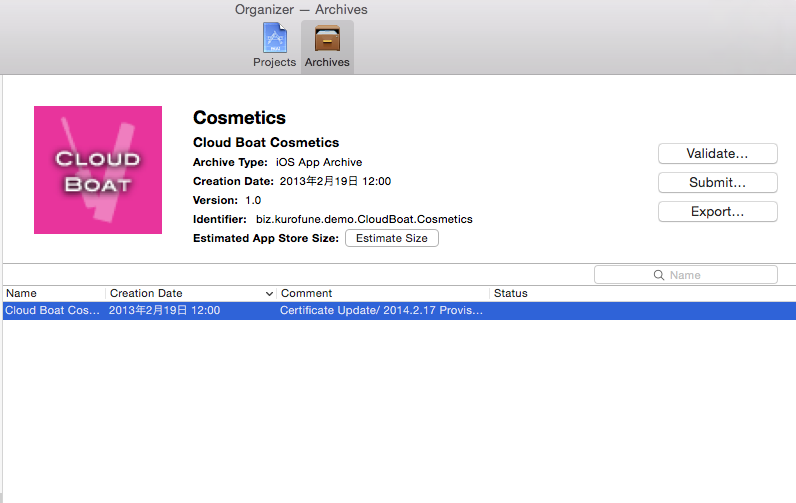 Select Archives from Organizer.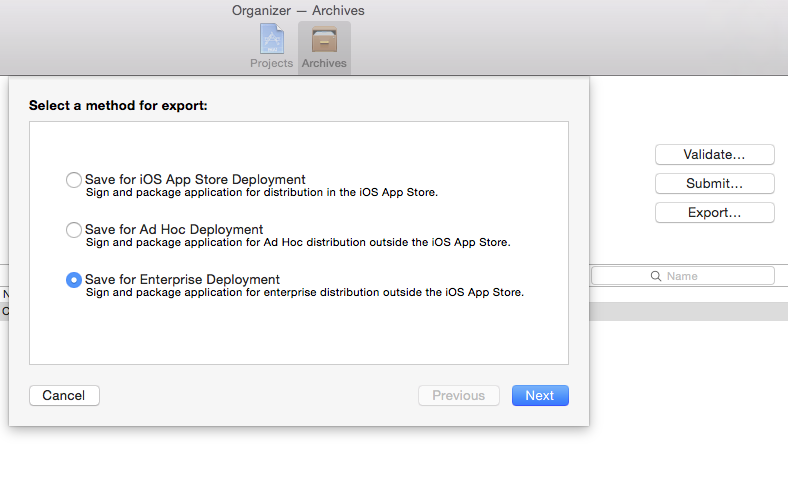 Go Export, you can choice app type (.ipa). CloudBoat choices Enterprise Distribution.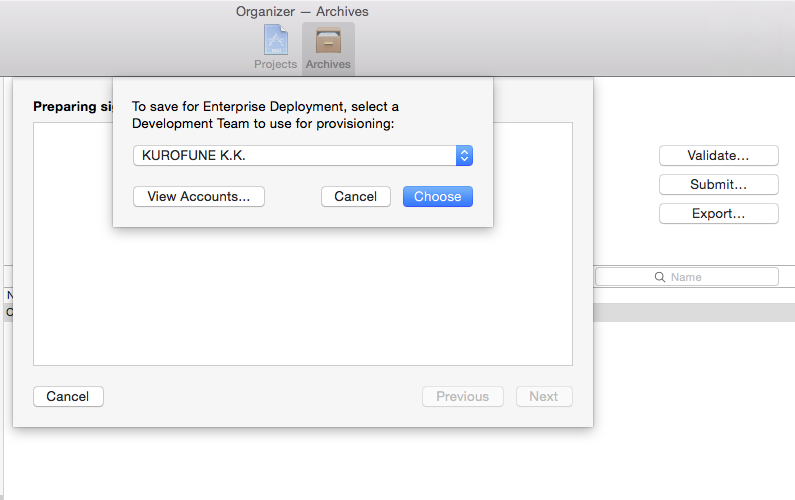 Set your Account.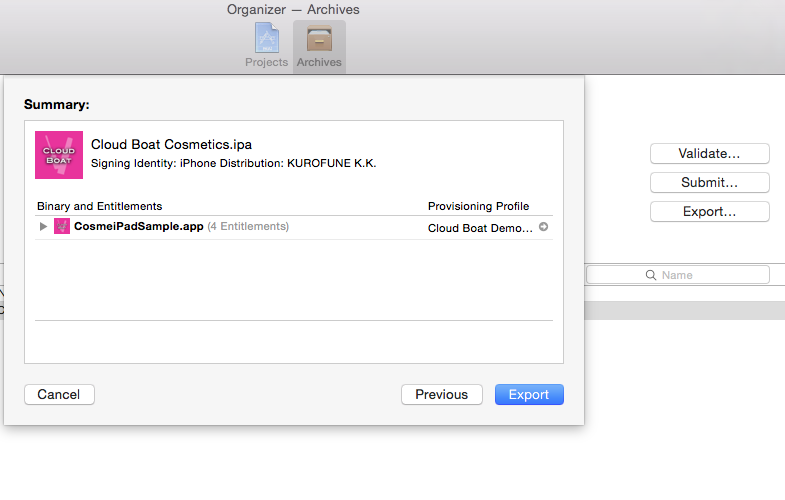 After make sure attached Provisioning Profile, go to Export.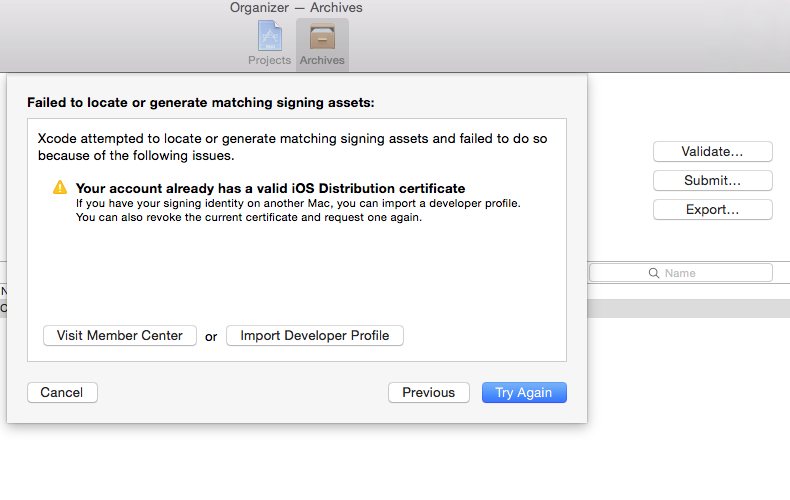 If you have an error, probably not update as Provisioning profiles.

Updating Provisioning profiles at Member Center.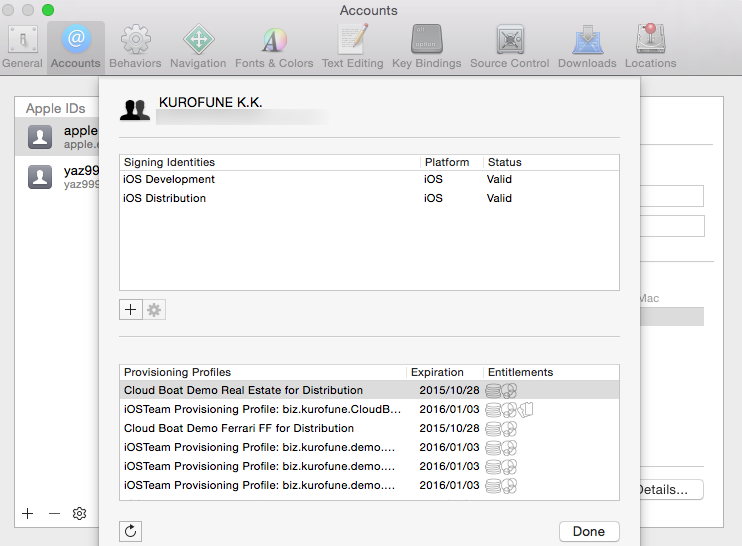 Xcode 6 can do automatic update Provisioning profiles, you can reload from Accounts in Preferences if in case of some errors.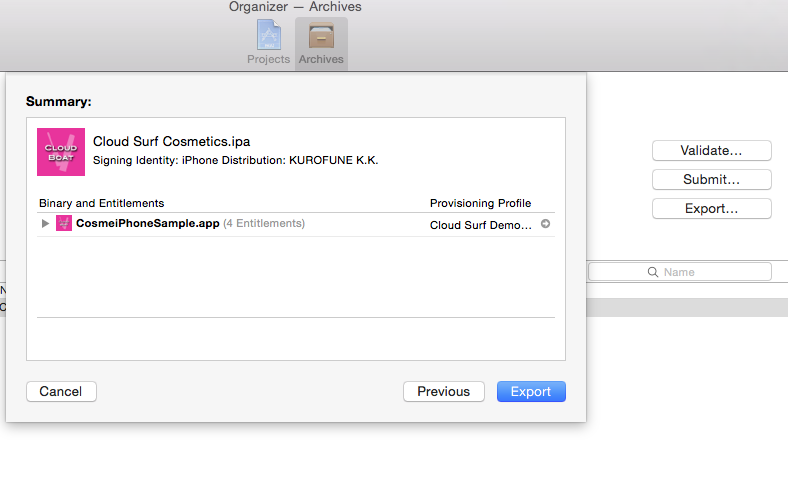 Export again,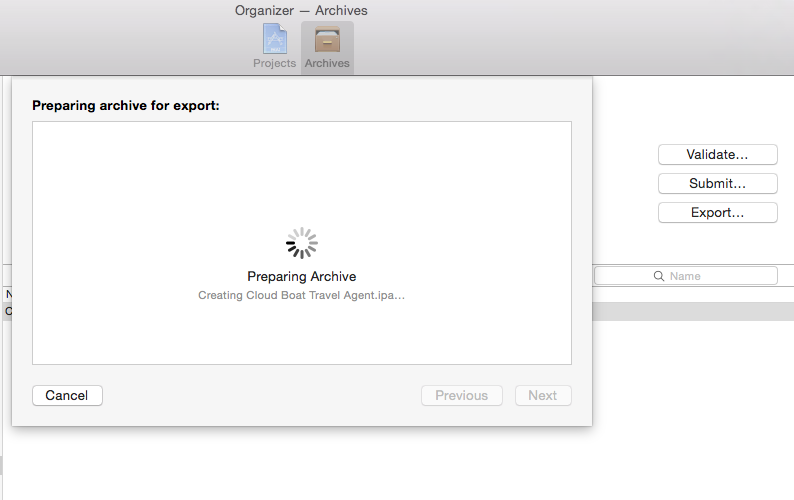 You can get an updated Application.
---
安定して稼働しているアプリケーションを、アーキテクチャのバージョン・アップに合わせて延命することは、地味ですが重要な仕事です。
iOSの互換性維持は、高いレベルで機能します。最新のiOS 8でも、iOS 6以前のベースでビルドされたアプリケーションは、いくつかの点を除いて、問題なく動作します。iOS 6以前の環境は、エミュレート状態で稼働しているかのようで、むしろiOS 7ベースで作られたものの方がクラッシュを起こす確率が高いように思えます。
こちらでご紹介のとおり、iOS 7とiOS 8には、見えない部分で大きな変更が施されています。CloudOceanが使用するCoreDataにも互換性がありません。
よって、iOS 6以前のアプリケーションは、アーカイブを更新することで延命することでのみ、対処できます。
iOS 8への延命措置の対処策
iOS 7
iOS 6以前
推奨対処法
コードの見直し、修正、再ビルド
アーカイブの更新
得られる結果
iOS 8での適切な稼働
iOS 7との共存
iOS 6以前のアプリケーションの延命稼働
制約
iOS 8とiOS 7両方への対応作の準備のみ
ソース修正ではないため、機能の追加、修正は不可能
最新アーキテクチャ機能が正常に機能しない
最新アーキテクチャとの連動、互換性維持が困難
ユーザー・インターフェイスでの細かな障害
まれなクラッシュ
必要な準備
ソースコードと適切な対処エンジニアリング
最新のプロビジョニング・プロファイル
Xcodeでのアーカイブの更新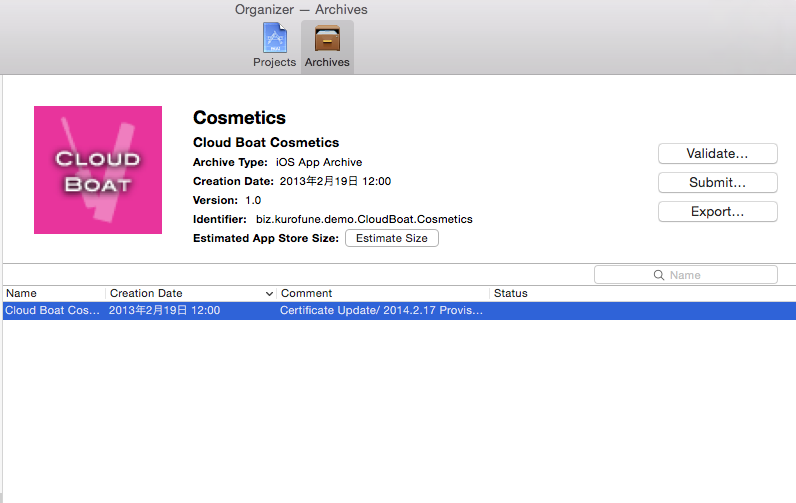 アップデートしたいアーカイブをXcodeのOrganizerで選びます。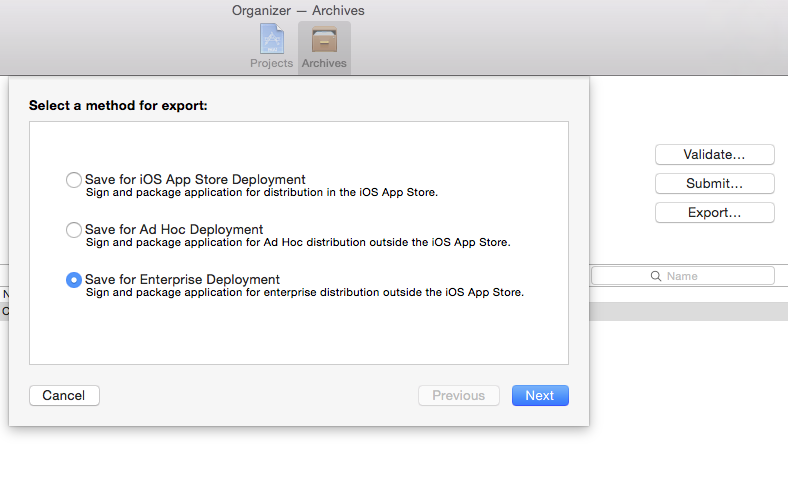 Exportを選択すると、アプリケーション (.ipa) の形式を指定できます。CloudBoatはEnterprise Distributionです。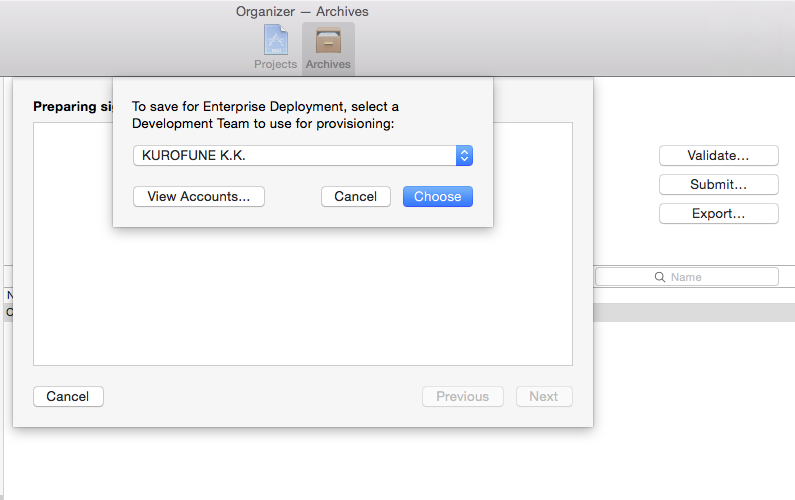 適切なAccountを指定し、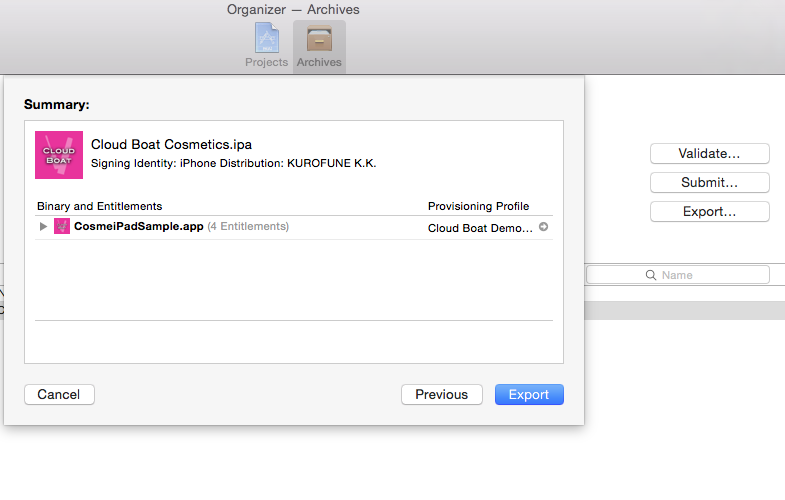 プロビジョニング・プロファイルが適切に指定されていることを確認したらExportするだけです。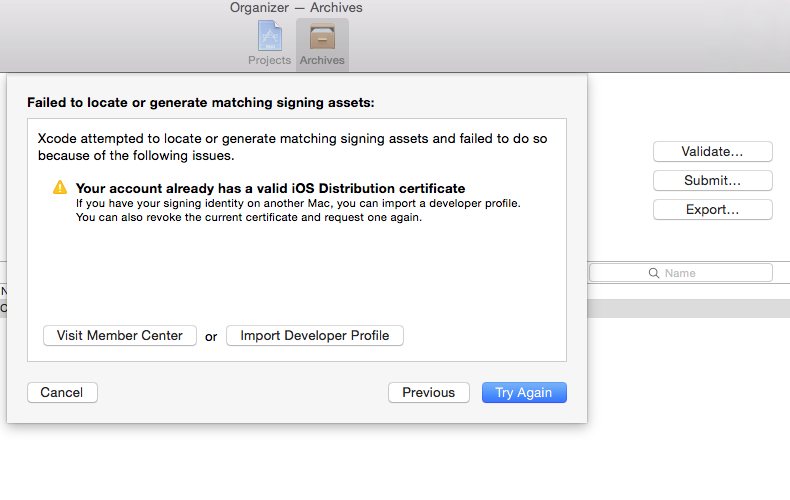 プロビジョニング・プロファイルが適切でない場合、エラーが発生します。

Member Centerでプロビジョニング・プロファイルを更新します。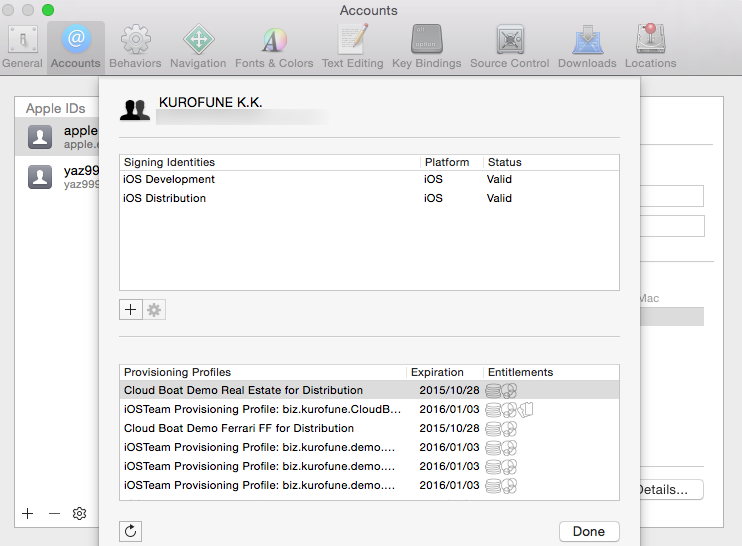 Xcode 6より、Member CenterからのダウンロードもXcodeで完結しますが、うまく機能しないときはPreferencesから、Accountsのプロビジョニング・プロファイルをリロードします。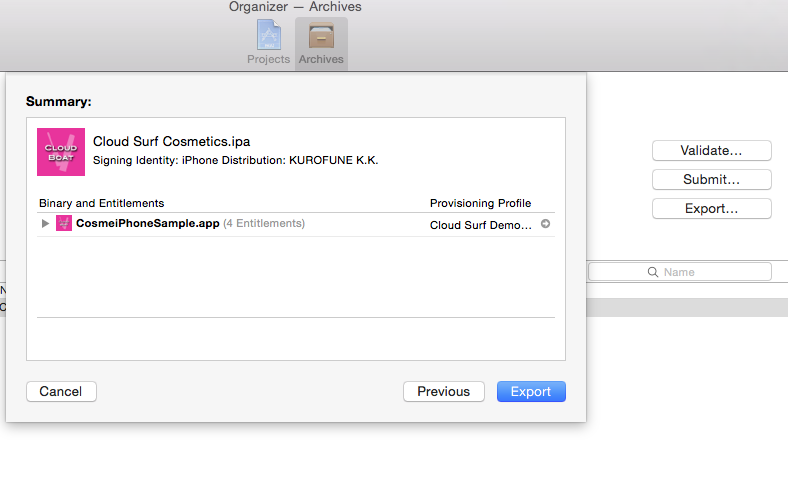 再度、Exportすると…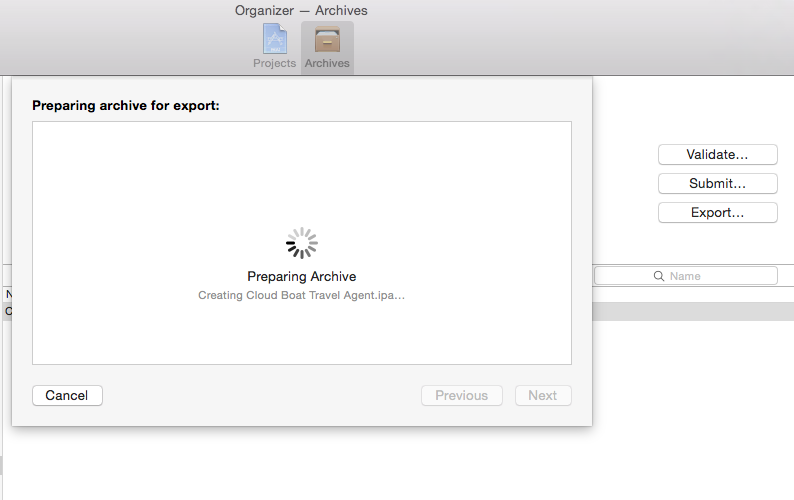 アプリケーションがExportされます。